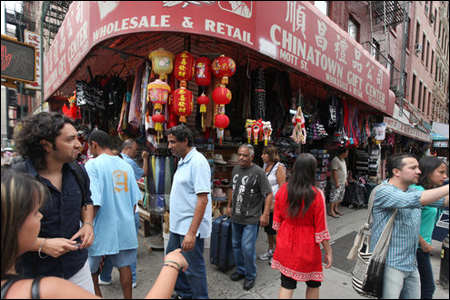 This week in New York, the City Council unanimously voted to approve a plan designating Chinatown a "business improvement district" in an effort revitalize the neighborhood's lagging economy, which was hit hard and never really recovered after September 11:
Chinatown to Join Roster of Business Improvement Districts
.
Under the designation, property owners will by assessed an annual fee of $200 to $5000 to help pay for street cleaning, outdoor lighting, security, tourism and signs to steer visitors. However, the plan was vigorously opposed by a group of landlords and merchants who say that business is so bad, that can't afford even small increases in expenses:
Jan Lee, whose family owns buildings on Mott Street, the incomparable heart of Chinatown celebrated by the Rodgers and Hart song "Manhattan," fears that if he passes a $2,000 fee onto his commercial tenants he will drive them out. Opponents point out that in business improvement districts like Times Square's, a good share of the fees are paid by large companies and banks.

Lam Sai Hung, 72, owner of Hop Lee Restaurant on Mott Street, said he already washed the sidewalk in front of his restaurant every day and paid a private carter $1,100 a month to take away his garbage.

"Why do I need to spend more and more?" he said.
More here:
Trying to Reverse Post-9/11 Slump in Chinatown, Jostling Hub of Gems and Foot Rubs