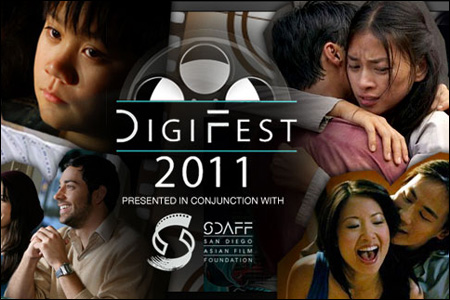 Hey, Asian film fans... I'm counting down the days until the 12th Annual San Diego Asian Film Festival, running October 20-28. In the meantime, you can catch some great Asian and Asian American films online -- for free! -- as part of DramaFever's
Digifest 2011
, presented in conjunction with SDAFF. Here's the full list of films:
Narratives
All About Dad
American Pastime
Children of Invention
Green Dragon
Half-Life
Make Yourself at Home
Owl and the Sparrow
Punching at the Sun
Raspberry Magic
Red Doors
Shades of Ray
Shanghai Kiss
The Trouble with Romance
White on Rice
Documentaries
And Thereafter I
And Thereafter II
Cats of Mirikitani
Family Inc
Finding Face
Macho Like Me
Miss Chinatown USA
Whatever It Takes
You Don't Know Jack
DramaFever Selected Films
19
Heaven's Postman
Turn It Up To 11
This is a solid selection of films, and a great chance to check out some of the hit titles that have played on the film festival circuit over the last couple of years, free of charge. I'd say that's a pretty good deal.
To see all the films, go to DramaFever
here
. And for more information about the San Diego Asian Film Festival, go to the festival website
here
.