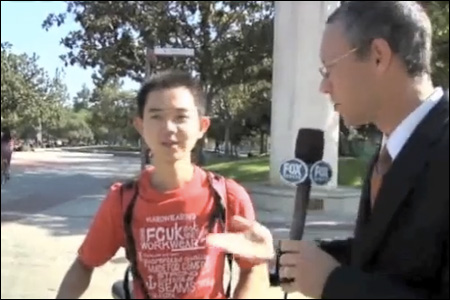 Fox Sports' recently sent comedian Bob Oschack to the University of Southern California campus to see what students thought about Colorado and Utah -- two supposedly "good old-fashioned all-American" schools -- joining the West Coast conference previously known as the Pac-10. The joke being, of course, that the Asian kids at USC are anything but good old-fashioned all-American:
Fox Sports Singles Out Asian Students At USC For Interviews On Football
.
As you can see, they only chose to interview Asian students for whom English is obviously not their first language, and with limited or no knowledge of football. Foreign accents! It's funny! I think it's pretty safe to assume Oschack and Co. stepped on campus knowing exactly what kind of segment they wanted to produce. More here:
Fox Sports Does Humiliating Whiteface Routine
.
For your information, Asian students made up 21.6 percent of last fall's undergraduate student body, and international students made up 11.2 percent.
Fox Sports has since issued an
apology
to "the entire USC community" for producing the video, acknowledging that it was "clearly inappropriate."
Really? Was it really that clear? Because it seems that it wasn't that clear to the people who produced it. Somebody actually thought this extraordinarily racist segment was a good idea:
Fox Sports Apologizes To "The Entire USC Community" For Segment That Singled Out USC's Asian Students
.