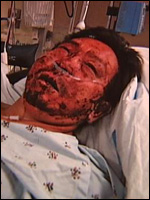 Earlier this year, I posted some disturbing news out of Vinita, Oklahoma about the
brutal attack on Neng Yang
, who was severely beaten by an angry pet owner after he accidentally ran over and killed a dog. He spent four days in the hospital, requiring reconstructive surgery after suffering shattered bones in his face, as well as two broken ribs and bruises on his leg.
29-year-old Scott Osborn is charged with aggravated assault. He claimed that he was afraid Yang was going to hit him, so he struck first. (I find this highly unlikely, considering that Osborn is 6'1" and 250 pounds.) Osborn also claims he hit Yang only one time, but the injuries are way too severe for that to be true.
Last week at a preliminary hearing, Yang and his wife gave testimony against Osborn. An second hearing has been scheduled for October 3. However, Craig County and the Sheriff's department are apparently refusing the victim's right to summon his surgeons and doctors to testify against Osborn. According to Yang's supporters:
Nevertheless, the Vinita Courthouse continued to outdo itself by denying Neng Yang access to a translator and rejected him from using the surgeons and doctors who contributed to his rehabilitation as key witnesses for his case by reasoning that it will cause "financial hardship" on the county. However, we as supporters, family members, and friends of Neng Yang recognize that the medical witnesses and testimonies are the evidence that will strip this case away from being based on circumstances. By the county negating the rights of Neng Yang to use medical witnesses and a translator who will allow him to understand the occurrence of the trial, the county is denying him his constitutional rights under the 6th Amendment which states that parties of a case "have compulsory process for obtaining witnesses in his/her favor, and to have the Assistance of Counsel..." Our hopes as a community across the United States of America is that justice will be provided for Neng Yang and his family.
Regardless of where you are, if you feel strongly about this case, and would like to express your support for Neng Yang, you can contact the Craig County Sheriff Department with this information:
210 West Delaware Suite 101
Vinita, Oklahoma 74301
(918)256-6466
OR EMAIL AT:
sheriff@junct.com
For more information about the case, and to follow along with further developments, go to this Facebook page:
Justice For Neng Yang
.