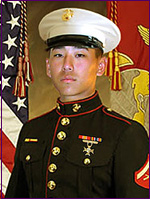 Some more information on the death of Lance Cpl. Harry Lew, the Marine who committed suicide while serving in Afghanistan. Lew shot and killed himself in his foxhole after hours of beatings, repeated push-ups in full body armor and mouthfuls of sand -- punishment by fellow Marines for falling asleep on duty.
Last week, during a House Armed Services hearing on the status of suicide prevention programs in the military, California Rep. Judy Chu talked about the life and death of Harry Lew -- her nephew:
Congresswoman talks about nephew Harry Lew during hearing on military suicides
.
"I want to tell you about something that happened in April of this year," she quietly told the military witnesses, her colleagues on the committee and various spectators. She described how Lew was caught sleeping -- it had happened before during the previous 11 days in Helmand Province -- and how the sergeant had called for "peers to correct peers." The punishment began at 11:30 p.m. and ended at 3:20 a.m., with Lew punched and kicked and forced to dig a hole.

"At 3:43 a.m. Lance Corporal Lew climbed into the foxhole that he just dug and shot himself and committed suicide," Chu said. "Lance Corporal Lew was my nephew. He was 21 years old and he was looking forward to returning home after three months. He was a very popular and outgoing young man known for joking and smiling and break dancing."
The congresswoman wants answers, and wants to know what is being done to prevent further hazing in the military. Here's C-SPAN video of Rep. Chu speaking about her nephew at the hearing:
Rep. Chu Speaks on the Passing of her Nephew, Harry Lew
.
This
TIME
article has an excerpt from the official investigation into Harry Lew's death -- with the names of those involved redacted -- and it paints an ugly, disturbing picture of the torment he had endure before he took his life:
"My Mom Deserves to Know the Truth."