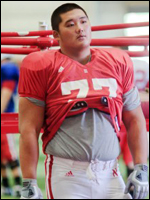 A couple of years ago, I posted a
story on Seung Hoon Choi
, the 6-foot-2, 320-pound high school kid from South Korea who joined Nebraska's football team as a walk-on. Last week, he earned his first start as an offensive lineman for ninth-ranked Nebraska:
S. Korean finds way into lineup for No. 9 Huskers
.
Not bad for a guy who knew next to nothing about football when he moved from Korea to attend high school in the United States in 2004. The only English words he apparently knew upon his arrival were "yes" and "no." After one fateful encounter with a substitute teacher, nearly six years later, he found himself in the Huskers' starting lineup against Washington:
A substitute teacher was walking through the library at Lincoln Christian High School when she spotted the new kid, all 6-foot-2 and 320 pounds of him.

"What's your name?" the sub asked.

"Seung," he said.

"Do you play football?" she asked.

"I don't know football," he said in broken English.

"Oh," she said. "You should get to know football."

Thanks to that teacher, who just happened to be the wife of the school's head football coach, Choi's curiosity was piqued. And last Saturday, not quite six years later, Seung Hoon Choi made his first start as an offensive lineman for ninth-ranked Nebraska.
They've nicknamed Choi "The Turtle" because he's slow and steady. The Huskers beat Washington, 51-38. This was good and bad news for Choi's sister, Ju-Youn Choi, an alum from the University of Washington. But I imagine she's pretty proud of her "little" brother. More here:
Sideline chatter: NU lineman Choi gets his first start
.