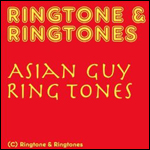 Saw this over on
Jenny Yang's blog
... WTF indeed. She points us to these crappy,
racist
Asian Guy Ring Tones
for your phone, which was apparently a top sellers on iTunes this week -- because everybody knows that mock Asian accents always make good comedy and profit.
For everyone who's ever wanted a stereotypically racist chinky voice blasting from your pocket every time you get a call, there's "Kamikaze," "Buddha Says," "Nunchuk!" and other racist bullshit for sale. Jenny has painstakingly transcribed some of these gems for your information:
iTunes #1 Comedy Ringtone for Monday, September 12, 2011:

Sister Calling

[Classic oriental ching chong song.]

Your sistah calling-yoooo. Ooh! You talk to sistah! So nice! Your sistah love you! You love you sistah! Talk to your sister on the phone. Talking to sister making nice. She love you! You talk to sister.

Comparing Offensive Asian Stereotypes with Offensive Black Stereotypes

Nunchuk!

[Classic oriental ching chong song.]

Waaah. Wassap mah niggah! waaa! Come on gangstah! ansah phone! woooh my niggah. Waaah. Pick up your phone my niggah! Waaah I must [unintelligible] your ass with nunchuk!

Shorty

[Classic oriental ching chong song.]

Woah. Pick up the phone Shorty! Whoah! Everybody where I come from short! But not have a big butt like black shorty. Oh shorty! I smack smack smack your ass. I smack that big ass. Woah. Shorty.

Genius

[Classic oriental ching chong song.]

[Gong]

Oh. You genius. Very smart. Pick up phone, Genius. You not just smart in math like other Asians. You smart in everything. But you not good in sport like brack people. Pick up phone, genius. You smart in everything!
If you think simply reading these isn't painful enough, you can actually listen to all the ringtones in their full-on ching chong glory at Amazon
here
. Thanks, Amazon, for perpetuating the ching chong. To all, be warned: if you're physically near me, and your phone goes off with one of these ringtones, I might just grab that phone and throw it into oncoming traffic. (Thanks, Jenny.)