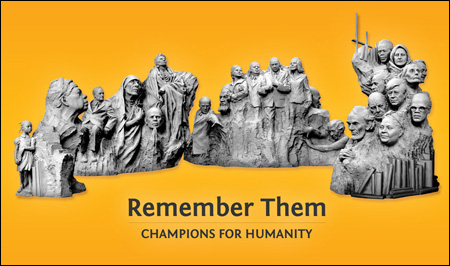 Today in Oakland, the Korematsu Institute invites you to the unveiling of the
"Remember Them: Champions for Humanity"
sculpture, which includes the likeness of Japanese American civil rights pioneer Fred Korematsu. It's happening at 1:00pm in Henry J. Kaiser Memorial Park.
The 30-ton, 1000 square-foot monument is the largest bronze monument in the West, and includes twenty-five civil and human rights icons such as Mahatma Gandhi, Nelson Mandela, Mother Teresa, Dr. Martin Luther King, Cesar Chavez, Rosa Parks and Harvey Milk. Here's the full list:
- The Rev. Ralph David Abernathy
- Maya Angelou
- Susan B. Anthony
- Ruby Bridges
- Cesar Chavez
- Chief Joseph
- Sir Winston Churchill
- Frederick Douglass
- Shirin Ebadi
- Mahatma Gandhi
- Helen Keller
- Coretta Scott King
- The Rev. Dr. Martin Luther King, Jr.
- Abraham Lincoln
- Nelson Mandela
- Harvey Milk
- Mother Teresa
- Rosa Parks
- Franklin Delano Roosevelt
- Oskar Schindler
- Thich Nhat Hanh
- Rigoberta Menchu Tum
- The Unknown Rebel of Tiananmen Square
- Elie Wiesel
- Malcolm X
To learn more about the Remember Them monument, and for further information about all of the 25 humanitarians represented, go
here
. For further information about today's unveiling (sorry about the short notice), go to the Facebook event page
here
.