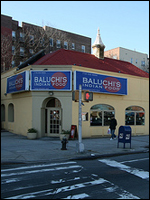 In New York, a restaurant chain has been slapped with a discrimination lawsuit by two South Asian patrons who say they were illegally charged a fee on top of their bill because they are South Asian:
Customers file suit against Baluchi's Indian restaurant for 'tip discrimination' practices
.
Abe Shah, who is of Pakistani descent, and Hema Virani, who is Indian, say that Baluchi's Indian restaurant in Forest Hill, Queens padded their check with an "automatic" 18 percent gratuity reserved for Indian, Pakistani and Bangladeshi customers, because South Asians "never tip":
The brouhaha started after the pair questioned why the 18% was automatically added to their bill and not to other customers' checks.

A man identifying himself as a manager admitted "a policy of automatically including a gratuity on the bills if Indian, Pakistani and Bangladeshi customers because 'they never tip,'" according to the lawsuit.

The argument eventually escalated and employees used "racial slurs" against the pair, punched Shah in the face and then shoved Virani into Shah, the suit charges.

Shah had a bruise and high blood pressure and Virani had bruised shoulders, according to the lawsuit.
The discriminatory gratuity is one thing, but then getting punched, spit at, and called racial slurs? Remind me never to eat at this place.
That's racist!
Shah and Virani are suing for compensatory damages, punitive damages, and attorney's costs. Here's the press release from the law firm representing them:
New York Civil Rights Violation Lawyer from The Perecman Firm Comments on Discrimination Lawsuit against Baluchi's Indian Restaurant
.