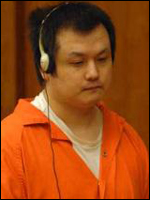 Revisiting this grisly case from a couple of years ago... Last week, Kang-Hyuk Choi appeared in court and pled guilty to the
murder of three family members
in their Tenafly, New Jersey home in 2008:
Choi enters guilty plea to killing three Tenafly residents
.
Choi admits to stabbing and killing three people, then hiding the bodies and fleeing to Los Angeles. He apparently stabbed Han Il Kim during an argument over money, then waited to kill Kim's mother Yoo Bok Kim and his uncle Doo Soo Seo to cover up what he had done:
He said he began as a client to Kim, but eventually was offered a job where he was supposed to receive $30,000 a month.

Choi said he was not being paid as he had been told, and that Kim had not been returning his calls.

"I asked for his help because I was in need of money," Choi said through his translator.

An argument ensued on May 4, 2008 regarding the money issues when Choi spotted a knife in front of him at a desk at Kim's house.

"I was really angry and I stabbed him," Choi said.

He said he then stored the body in the closet.
Sentencing is set for November 2. Choi faces a minimum penalty of 30 years in prison without parole, and a maximum of 63.7 years in prison without parole, if the sentences were served concurrently. More here:
Guilty plea in Tenafly triple murder
.