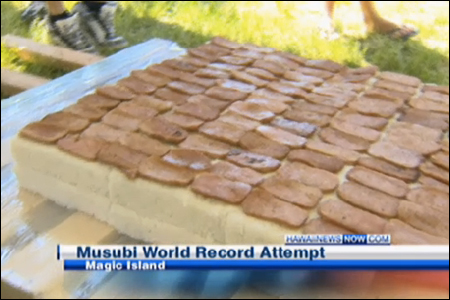 Yes. Yum. Spam. Over the weekend in Honolulu, as part of the second annual Hawaii Rice Festival in Honolulu, volunteers came together to sizzle some spam and wrap mad nori in an attempt to create the world biggest spam musubi. And they did it:
Spam musubi sets new world record
.
Thousands came out to Magic Island today, to celebrate the glory of rice and a new world record.

15 volunteers cooked rice, sizzled spam and gathered nori to create the worlds largest spam musubi!

"Its 320 cups of rice, 26 or so cans of spam cut into ten slices and about 100 or so sheets of nori," said Edward Sugimoto, co-founder of the Rice Festival.

The feat was recorded in the Guinness Book of World Records.

Organizers say the huge spam musubi will be donated to the Hawaii Food Bank to help feed the homeless.
The spam musubi weighed 286 pounds and took six hours to make. A new world record! Is it too late to volunteer to eat some of that monster musubi? More here:
Hawaii Attempts Spam Musubi Record
.