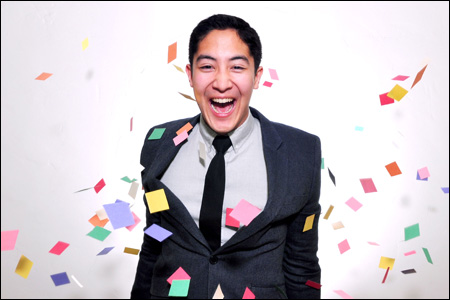 What's up, my people? Once again, it's time to meet the
Angry Reader of the Week
, spotlighting you, the very special readers of this website. Over the years, I've been able to connect with a lot of cool folks, and this is a way of showing some appreciation and attention to the people who help make this blog what it is.
This week's Angry Reader is singer/songwriter
Andrew Figueroa Chiang
, who will be performing at
Kollaboration 11
on November 5 and
Hotel Cafe
on November 19.
Who are you?
Andrew! Wearer of pants. Haver of fun.
What are you?
Chinese-Puerto Rican Los Angeleno Entertainer Music Man.
Where are you?
Los Angeles, CA, USA
Where are you from?
Greater Los Angeles, CA, USA
What do you do?
I write, record, perform, and teach music!
I front the band Andrew Figueroa Chiang and the Blazing Rays of the Sun. We're currently making a new record, and we play shows always and forever!
What are you all about?
Quality music, great performances, and spreading joy across the universe!
What makes you angry?
The price of musical equipment in relation to my income. :(