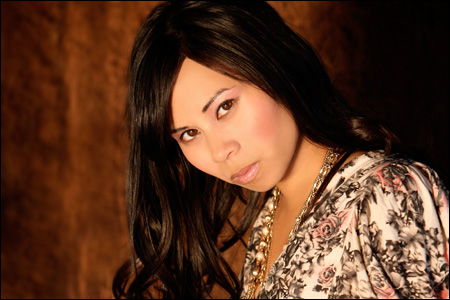 What's up, my people? Once again, it's time to meet the
Angry Reader of the Week
, spotlighting you, the very special readers of this website. Over the years, I've been able to connect with a lot of cool folks, and this is a way of showing some appreciation and attention to the people who help make this blog what it is. This week's Angry Reader is actress
Camille Mana
, who currently appears in the play
Asunsion
and the indie feature film
Norman
.
Who are you?
I am Camille Mana, an actress, sometimes producer, and less oftentimes writer. I am a lover of indie pop, offbeat humour, artsy films, and even artsier boys. Including my boyfriend. (Hi, boyfriend. Yes, I still love you. No, you shouldn't be worried).
What are you?
I am 2 parts emotion, 2 parts ambition, and and 1 whole lot o' parts nerd.
Where are you?
I currently write to you, dearest Angry Asian Man readers, from my brightly colored sublet sanctuary (and temporary home away from home) in NYC, where I am toiling away on my current project
Asuncion
. Ah-hem. It will soon be
brr-cold
.
Where are you from?
I come from a land lacking in
brr-cold
. A California girl through-and-through, I was raised in Orange County, educated in Berkeley, and socialized in Silverlake (give or take a five-mile radius). I have a penchant for East LA night life, taco trucks, and watching afternoon movies at the two-dollar theater in Pasadena.
What do you do?
I am currently acting in...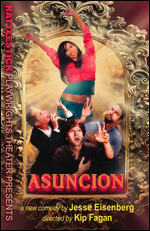 1.
Asuncion
(opening this week)
Oscar-nominee Jesse Eisenberg's World Premiere playwriting debut Off-Broadway, opposite Jesse Eisenberg (
The Social Network
,
The Squid and the Whale
,
Zombieland
) and Justin Bartha (
Hangover 1&2
,
National Treasure 1&2
,
Holy Rollers
) at the Cherry Lane Theatre in NYC. I play the role of "
Asuncion
" a vibrant young woman who has emigrated from the Philippines (yes, Dear World, I am finally playing an immigrant) and moves into an apartment with two liberal, intellectual roommates played by Eisenberg and Bartha. Conflict and hilarity ensue.
The play examines how even the most progressive and seemingly aware amongst us can harbor latent prejudices and misconceptions. And how knowledge and experience can be at war with one another. Yada yada. Smart and vapid, old and young, all kinds-o-humans alike seem to be enjoying the Previews. However, this is no guarantee that you will. Only one way to find out: Opening Night is October 27. Additionally, Student Rush and Under 30 Discounts are
available
at Rattlestick Playwrights Theatre. Mad props to Eisenberg for bringing a Filipina character to the forefront of Off-Broadway. A land lacking in non-singing Asians. Woot!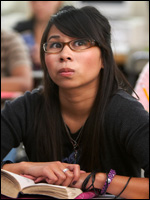 2.
Norman
(opening today, October 21)
A lovely art house film starring Dan Byrd (
Easy A
,
Cougar Town
), Oscar-nominee Richard Jenkins (
Let Me In
), Adam Goldberg (
Dazed and Confused
,
Saving Private Ryan
), and Emily VanCamp (
Brothers and Sisters
,
Everwood
). I play "Helen Black," a neurotic and offbeat young drama geek with a penchant for performance art and Norman himself. Bonus points for an original score and soundtrack by the amazing Andrew Bird, streaming for free
here
. Additional Mad Props to director Jonathan Segal for casting an Asian-American girl in a movie that takes place in a town lacking diversity, Spokane, Washington. Helen could have been a chubby redhead in overalls.
Voila!
Cut to: CAMILLE MANA in Hot Topic garb and Asian-face.
What are you all about?
I am about trying to discover and uncover the ways we find balance in this crazy game-o-life. Laughing, crying, and sampling Groupons for Thai Massages, Healers, and Ban-Mi sandwiches along the way.
What makes you angry?
I will leave you today with a quote... of an actor... playing a fictional character... while quoting a real-life person... in the play known as
Asuncion
.
"Nothing in the world is more dangerous than a sincere ignorance and conscientious stupidity." - Justin Bartha, playing Vinny, while quoting MLK, in
Asuncion
, written by Jesse Eisenberg.
Phew.
Yea. You heard me.
Peace out.
Twitter:
@camillemana
Facebook:
camillemanaofficial
Website:
camillemana.com