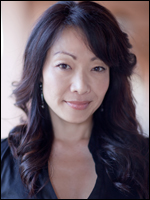 Hello, good people of the internet. Please meet the
Angry Reader of the Week
, spotlighting you, the very special readers of this website. Over the years, I've been able to connect with a lot of cool folks, and this is a way of showing some appreciation and attention to the people who help make this blog what it is. This week's Angry Reader is Lee Ann Kim, Executive Director of the
San Diego Asian Film Foundation
.
Who are you?
Lee Ann YiYun Kim. Oldest of four daughters, child of the oldest son of the oldest son. Immigrant, product of the 80s, mother of two beautiful boys, proud wife, and Seoul Sista!
What are you?
A storyteller. Former broadcast journalist, executive director of the San Diego Asian Film Foundation.
Where are you?
In the weeds preparing for the 12th San Diego Asian Film Festival. Come find me October 20-28.
Where are you from?
Born in Seoul, S. Korea, I spent most of my formative years causing trouble in the suburbs of Chicago (in the dynamic town of Downers Grove where I'd sneak out buzzing on NoDoz to hang at White Castle, Waveland Bowl, and Medusas). Lived in College Park, MD, worked as a broadcast news gypsy in Houston, Tuscaloosa, and Springfield (MO) before I made sunny San Diego my home.
What do you do?
Whatever it takes to get the job done and make things happen.
What are you all about?
Dreaming big. Being the voice, providing the voice, connecting people for the greater good... and partyin' like it's 1999. Oh, and dark chocolate.
What makes you angry?
People who don't vote, throw trash out the window while driving, and stand in line at the grocery store in the 15-items-or-less aisle when they clearly have more. Excuses. Complacency. Abuse towards children and animals. When people talk smack about the ones I love.
(photo credit: Melly Lee)