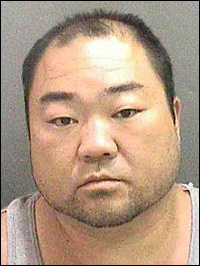 The guy who played Random Task in
Austin Powers: International Man of Mystery
, and was
sentenced to life in prison
last month for raping and torturing a woman in 1990, is now accused of killing his cellmate:
'Austin Powers' actor suspected in prison death
.
40-year-old Joseph Son is suspected in the murder of another prisoner at Wasco State Prison. His cellmate, a parole violator serving a new two-year sentence for failing to register as a sex offender, was found dead in the cell he shared with Son. The death is being treated as a homicide:
Joseph Hyungmin Son, 40, allegedly killed his 50-year-old cellmate, who was found dead Monday afternoon at Wasco State Prison Reception Center in Kern County.

The cellmate was a parole violator who had been sentenced to two years in prison for failing to register as a sex offender, according to a prison report. A cause of death was pending.

Prison officials have named Son as the suspect, but officials said charges against him will await the completion of the investigation.
This guy is bad news through and through. When he was sentenced, I said I hoped he rot in his cell. Maybe a cell isn't even good enough for him. More here:
'Austin Powers' actor allegedly kills sex offender in prison
.