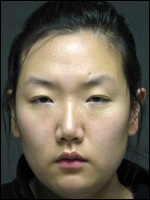 Oh man. Scandal! Over the weekend in Northbrook, Illinois, a 24-year-old church youth group volunteer was arrested after police found her naked in a parked car with an underage teenage boy:
Police: Northbrook woman, 24, found naked in car with boy, 15
.
Na Choi was charged with criminal sexual assault after admitting she had sex with the 15-year-old boy. According to the
Chicago Sun-Times
, she was a volunteer at Agape Presbyterian Church, a Korean church in Prospect Heights, leading a youth group where the teen was apparently a member:
Na Yun Choi of Northbrook was arrested Saturday night after police discovered her and the 15-year-old boy naked in a car at Wood Oaks Park in the north suburb, Cook County prosecutors said as Choi appeared in bond court.

Choi was charged with felony criminal sexual assault after she allegedly admitted having sex with the teen, prosecutors said.

If convicted, she faces up to 15 years in prison.

She was a youth leader at Agape Presbyterian Church in Prospect Heights, while the teen was a member of that group.

Choi attends the Korean-American church but is not a staffer, said a church official, who declined to comment further.

Police found Choi and the teen together about 11 p.m. Saturday while investigating a darkened car in a lot at the closed park.
Seriously, woman. What were you thinking? I suppose it goes without saying... but that's a church youth group that's going to need a leadership overhaul. Choi is scheduled to appear in court on October 26. If convicted, she'll face a sentence of up to 15 years in prison.