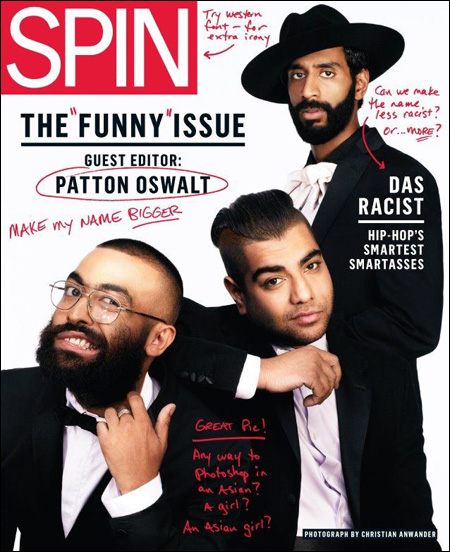 Oh, whaaaat?
Das Racist
is rocking the November 2011 cover of
Spin
. If that's not awesome enough, the cover story is written by standup comedian Hari Kondabolu, brother of Ashok Kondabolu -- aka Dapwell -- hype man of the group:
Das Racist Cover Story: These Colors Don't Run
.
According to the official description on their booking agency's website, DR is "a white-guilt art project/science experiment/ponzi scheme piloted by Heems, KOOL A.D., and the Honorable Prophet Dapwell." The inclusion of the word project at least is accurate: The music is, of course, the primary aspect of their work, with songs that seamlessly weave self-aware deconstructions of racial politics into a rapid-fire collage of pop-cultural, historical, and academic references reading both as poetry and comedy. There is also something inherently political about brown men (Ashok and Himanshu are Indian) who do not scan as black or white (Victor is half-black and half-white) talking about their place in a nation and an art form — hip-hop — that sees them as outsiders.

Hima expresses this frustration in the track "Shut Up, Man," off their first proper album, Relax, released in September: "They say I act white, but sound black / But act black, but sound white / But what's my sound bite supposed to sound like?" It is part of a trademark style of shrewd social observations and references to people, places, and things that add to a longer discussion only hinted at in the music. Their lyrics are a reading, listening, and viewing list for a later time — you can dance and nod your head to the music now, but if you want the full experience, start Googling.
Read the whole piece. It's quite good. For more information on Das Racist and their kickass new album
Relax
, check out their official website
here
.