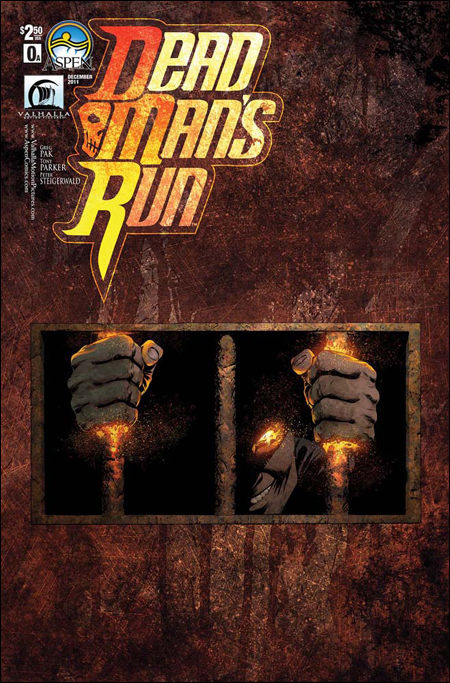 Oooh. Awesome. Our old friend Greg Pak's latest comic book project, a supernatural thriller called
Dead Man's Run
debuted last week with a #0 introductory issue. The book tells the story of a jailbreak from Hell and is produced in conjunction with Aspen Comics and legendary
Aliens
and
The Walking Dead
producer Gale Anne Hurd. Here's an official description:
From acclaimed 'Hulk' writer Greg Pak, legendary 'Walking Dead' producer Gale Ann Hurd, and Tony Parker, penciller of the Eisner-nominated 'Do Androids Dream of Electric Sheep', comes this winter's biggest blockbuster new series - DEAD MAN'S RUN! They call the prison 'Hell.' And they just might be right. The nation's toughest soldier heads into the world's most deadly maximum security lock-up and uncovers a world of terror and temptation beyond his darkest dreams. Featuring a brand-new 12-page story that sets the stage for next month's upcoming premiere of DEAD MAN'S RUN #1, make sure to get in on the ground floor of this newest exciting Aspen hit series! Complete with an additional sketchbook section showcasing the astounding artwork of series artist Tony Parker, never before seen character designs and sketches, and surrounded by a stunning new cover, this special zero issue is definitely not to be missed!
It's been getting rave reviews and I can't wait to pick this one up. Here's a short video of producer
Gale Anne Hurd interviewing Greg Pak
at New York Comicon. And here's Greg talking to Comic Book Resources about the book:
NYCC: Greg Pak Sets Out On A "Dead Man's Run."
For more information about
Dead Man's Run
, go to Greg's website
here
.