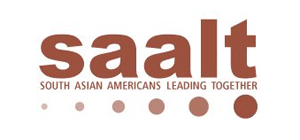 South Asian Americans Leading Together
(SAALT) is currently accepting applications fall/winter 2011-12 internships. They're looking for self-motivated, community-minded undergraduate, graduate and law students to work and learn about civic and political engagement at SAALT's office in Takoma Park, Maryland. Here are some more details about the internships:
SAALT Fall/Winter Internships 2011-2012

Apply now for a Fall/Winter 2011-2012 internships at SAALT!
Deadline: November 4

Internships at SAALT enable students to promote the civic and political engagement of South Asians in the United States. We encourage applications from undergraduate, graduate, and law students who are self-motivated and committed to working toward social change in your community.

The following paid internships are available for Fall/Winter 2011-2012
at SAALT's office in Takoma Park, MD:

Programs and Campaigns Intern

Development Intern

Deadline
Applications will be accepted and interviews conducted on a rolling basis.
Priority consideration will be given to applications received by November 4.
For further information about these internships, qualifications and how to apply, download the internship announcement
here
(PDF). To learn more about South Asian Americans Leading together, go to the SAALT website
here
.