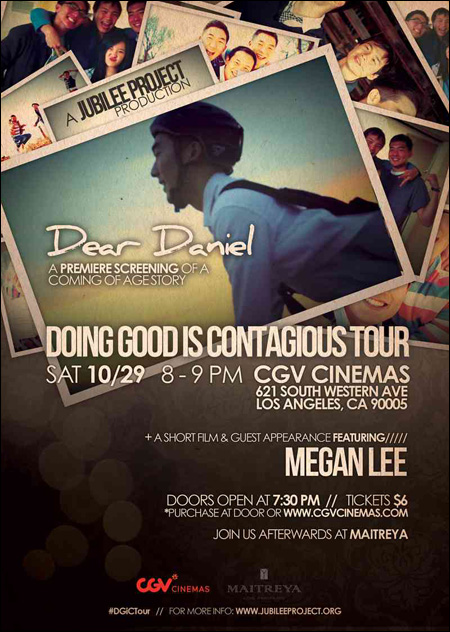 If you're in Los Angeles, the Jubilee Project invites to the premiere of their latest film,
Dear Daniel
, as part of their "Doing Good Is Contagious" tour.
The 20-minute short is described as a coming-of-age story about a college student trying to pursue his dreams while caught in a web of relationships with his Tiger mom, brother and girlfriend.
In addition to
Dear Daniel
, evening's program will also include a new short film about sex trafficking featuring teen singer Megan Lee, as well as an after-event reception. It's happening this Saturday, October 29 at CGV Cinemas in Koreatown. Here are some more details:
Jubilee Project Premiere: Dear Daniel

Saturday, October 29
7:30pm - 9:00pm

CGV Cinemas
621 South Western Avenue
Los Angeles, CA

Join the Jubilee Project as they premiere their film, "Dear Daniel," for the first time on the big screen at CGV Cinemas in Los Angeles! And AFTER-PARTY for those of you who dont have Halloween plans already!

As part of their "Doing Good is Contagious tour," the Jubilee Project has been going across the country screening their film and empowering young people to take action and make a difference in their own communities.

Tickets:
Open to all ages. $6
Buy at the door or online at www.CGVcinemas.com
You are encouraged to get in on the Halloween spirit and come dressed up in costumes. For further information, and to learn more about the Jubilee Project, go to their website
here
and the Facebook event
here
.