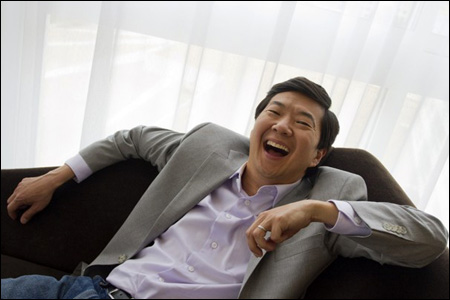 You may have seen much more of Ken Jeong than you've ever wanted to see -- spoiler: I'm talking about his penis -- in
The Hangover
. Or perhaps seeing him every week on NBC's
Community
isn't quite enough Jeong for you.
Well then, here's some movie news... According to The Wrap, Ken Jeong will produce and star as "an offbeat relationship coach" in the comedy
The Chung Factor
:
Ken Jeong to Star In, Produce 'The Chung Factor' for Lionsgate
.
The movie is about a nice guy who meets the girl of his dreams after being unlucky in love. But because he's afraid of screwing up the relationship, he takes advice from an offbeat relationship coach, played by Jeong.

As it turns out, the coach is actually the woman's ex-boyfriend and is out to sabotage the relationship and win her back.
Should be interesting to see Dr. Ken get first billing on the poster. I think he's a talented performer who always bring an insane energy to his characters. They're not always great roles -- I am no fan of Mr. Chow in
The Hangover
movies -- but I'm always looking forward to see him do something different.