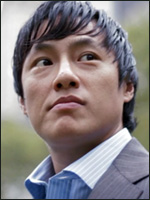 Tonight on ESPN, award-winning filmmaker Morgan Spurlock explores the inside world of professional sports agents in
The Dotted Line
. The documentary attempts to pull back the curtain on the ultra-secretive sports agent industry to expose what these guys really do in the trenches.
One of the guys they profile is a Eugene T. Lee of ETL Associates, Inc., an up-and-coming NFL agent who is quicly making a name for himself in this highly competitive industry. Spurlock calls him a future "powerhouse" agent:
Why Upcoming NFL Agent Eugene Lee Was Hand-Picked For ESPN & Spurlock's Doc "The Dotted Line."
Nothing has ever been handed to Eugene, who picked up his first sports client while playing pickup basketball in law school. He is known for never compromising his principles to get ahead. "I love to conquer obstacles...the principles of hard work and sacrifice remain entrenched in everything I do" says Lee. Present day, he is building a leading sports agency with clients across teams in the NFL.

"The Dotted Line" shows what goes on behind closed doors as Eugene helps athletes navigate the minefield that is professional sports. Agents are known to be some of the most hated people in professional sports due to greed, scandal, and ruthlessness. However, Eugene has been able to maintain a sense of integrity and leverage his faith while in a tank of sharks.
Sounds pretty interesting. Here's more about Eugene T. Lee in his own words from the
profile video
on his management website. (It's funny, he refers to "agents" multiple times, but I can't help hearing "Asians.")
The Dotted Line airs Tuesday, October 11 at 8:00pm EST on ESPN.