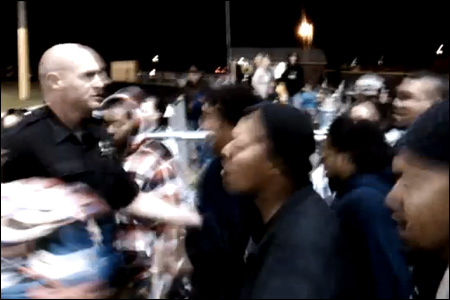 Police in Roosevelt, Utah are being accused of overreacting after using pepper spray to break up a group of men and boys performing a traditional Polynesian dance after a high school football game last week:
Police pepper spray Haka dancers at football game
.
Officers were apparently trying to disperse a group of performers who were blocking an exit. Police insisted that they move from the area to allow players and others to leave the field. When they began the haka instead, officers bust out the pepper spray and used it to forcefully disperse the crowd:
There's a brief, blurry
video
of the police action:
It's hard to tell what's happening, but whatever goes down, it happens without warning. Unprovoked and completely unnecessary:
The group in Roosevelt, a town of 8,000, had traveled about 125 miles east from the Salt Lake City area to watch a relative play his final game for Union, which lost to rival Uintah and finished the season without a victory.
The group reportedly was trying to boost Union's morale with the Haka as the players left the field.
Spectators, coaches and players told police that everything was fine and they should let the men perform, Jessica Rasmussen said, but officers asked them to make room and started using pepper spray.
Rasmussen said she and other bystanders also got spray in their eyes, ears and mouths.
Union fan Jason Kelly said the way police reacted was an embarrassment to the community of Roosevelt.
"I've never seen anything like it," Kelly said. "It was totally unprovoked."
Sounds like some cops didn't know what the hell was going on, got kinda jumpy when these guys starting doing some "aggressive" dancing and chanting, and were way too quick to pull out that pepper spray. Outrageous. More here:
Roosevelt police pepper spray fans after high school football game
.