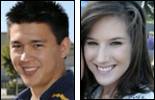 In San Jose, police are investigating the murder of two former San Jose State University students who were gunned down execution style:
San Jose police identify two weekend homicide victims, both former SJSU students
.
The victims are 21-year-old Eric Kenzo Otokawa and his girlfriend 20-year-old Kristina Pandula. They were found shot to death on Saturday morning at Otokawa's apartment near the university campus.
According to police investigators, they were both shot in the head multiple times and the suspect may have been an acquaintance:
The neighbor fears for her safety and says police investigators told her both victims were shot in the head multiple times and the suspect may have been an acquaintance.

When asked if police said they knew who they were looking for, the neighbor said, "Yes. Well, they said that there was one witness in the neighborhood that saw this guy leaving very abruptly in a black Honda."

The neighbor said the suspect was clean cut, 5'8" with dark skin and she saw him at the house frequently. If there is a prime suspect, police aren't letting on. Instead, they're reaching out to the community for help.

"We need the public's help to solve this and we're reaching out to them. We know somebody is out there who knows this individual, who may suspect that he or she may have committed the crime," said San Jose Sgt. Jason Dwyer.

More here:
Execution-style double shooting remains a mystery
.
Police are asking for the community's help to solve this. Anyone with information regarding this incident is urged to contact Detective Liz Checke or Detective Steve Bustillos in the San Jose Police Department's homicide unit at 408-277-5283.