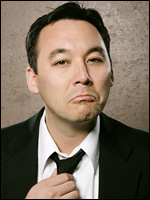 I've been a fan of comedian
Steve Byrne
for years, so I was quite pleased to hear that he's written and starring in a sitcom pilot for TBS,
Sullivan and Son
:
TBS Orders Pilot Starring Comedian Steve Byrne And Produced By Vince Vaughn
.
Produced by Vince Vaughn and Peter Billingsley, and co-written by comedy veteran Rob Long, the show is set in a working-class neighborhood bar in Pittsburgh, and sounds like it takes a few cues from Steve's own Irish/Korean American upbringing:
Written by Byrne and comedy veteran Rob Long (Cheers), who serves as executive producer/showrunner, Sullivan And Son takes place in a popular and legendary neighborhood bar in a working-class neighborhood in Pittsburgh. It centers on Steve Sullivan (Byrne), the son of the current owner of the bar and the grandson of its founder, who surprises his Irish-American father and Korean-American mother when he decides to leave his job as a successful corporate attorney in New York and return to the old neighborhood to take over Sullivan & Son.
The pilot will be shot later this fall, and Steve tells me they're looking for actors to cast a few roles. Specifically, he's casting a Korean woman to play his mother and a hapa -- hopefully, half-Korean -- actress to play his sister. So... actor friends, get on this or be helpful and spread the word. Contact your agents and come in for this role over the next few days.
Cool news. Man, if this is good, and it eventually gets picked up, I'd love to see Steve Byrne starring in his own sitcom. For more information on Steve Byrne and his comedy, check out his website
here
. And to see Steve do a disturbingly erotic dance, go
here
.