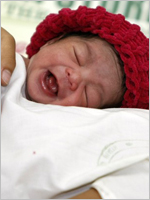 Seven billion. There are now seven billion of us human beings living on this planet. At two minutes before midnight, a tiny baby girl was born in Manila, becoming the world's 7 billionth person. Well, one of them:
Various '7 Billionth' Babies Born Worldwide
.
While it's impossible to pinpoint the arrival of the planet's 7 billionth occupant, 5.5-pound Danica May Camacho became one of the babies included in the United Nations' symbolic celebration of today's global population milestone:
Danica was the first, arriving at Manila's Jose Fabella Memorial Hospital at two minutes before midnight Sunday - but doctors say that was close enough to count for a Monday birthday.

"She looks so lovely," the mother, Camille Galura, whispered as she cradled the 2.5-kilo (5.5-pound) baby, who was born about a month premature.

The baby was the second for Galura and her partner, Florante Camacho, a struggling driver who supports the family on a tiny salary.

Dr. Eric Tayag of the Philippines' Department of Health said later that the birth came with a warning.

"Seven billion is a number we should think about deeply," he said.
And in Uttar Pradesh, India, officials said they would be appointing 7 girls born Monday to symbolize the 7 billion. Next milestone for Planet Earth: 8 billion, which demographers predict we'll reach by 2025. That is, if we don't destroy this planet first... More here:
World's 'seven billionth baby' is born
.