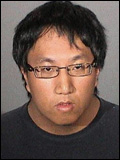 Sickening. If you can find any kind positive outcome from the Penn State sexual abuse scandal, it's that talking about it has opened the door for other victims to come forward. But man, it's still hard to hear about. Like this sicko:
Babysitter Arrested After Mom Tells Son About Penn State Scandal
.
In Southern California, a man is accused of molesting two young boys he was hired to babysit. 19-year-old Jordan Liu was arrested last week on sexual assault charges, accused of molesting 8-year-old and 3-year-old brothers in Glendale.
Liu had been babysitting for these kids for past eight months. The allegations were finally brought up when the children's mother talked about the ongoing Penn State scandal with them:
The mother of the two boys found out about the alleged abuse after she told her oldest son about the Penn State sexual abuse scandal.

"She was trying to describe some of the acts that are basically no-nos," said Tom Lorenz, spokesman for the Glendale Police Department. "The child began to cry and said, 'Mommy, the babysitter has been doing this to me.'"

According to Lorenz, Liu would take the kids out "on average of up to four hours" at a time, at least once a month for the past eight months.

Lorenz wasn't able to disclose where they had gone, but the "child brought it up and we were able to confirm."
Liu appeared in Glendale Superior Court this week and pled not guilty to eight charges of child molestation. His next court appearance is scheduled for January 5. More here:
Alhambra babysitter accused of molesting children
.