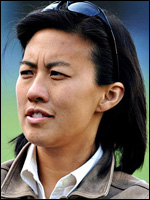 A couple of weeks ago, it was reported that longtime Major League Baseball exec Kim Ng was one of the candidates being considered for the general manager position for the Los Angeles Angels. Alas, the job eventually went to Jerry Dipoto. Passed over again.
Kim Ng is unique because she's been able to climb through the ranks and proven herself in an industry where few women -- and almost no Asian American women -- have achieved leadership roles. Here's a good ESPN commentary on the importance of being Kim Ng:
Kim Ng makes mark on 'sport side' of baseball
:
What makes Ng's story notable is she has made her mark on the "sport side" of men's sports. While a growing number of women have established themselves on the business side of men's leagues and teams (working in communications, marketing, human resources, finance and the like), it's very rare to see a woman managing any of the core functions of the sports themselves. In the major leagues of men's sports, player- and competition-related jobs like coaches, general managers, heads of player personnel, referees, scouts and trainers have remained a male domain, with the notable exception of the Dodgers' anticipated hiring of Sue Falsone.

For Ng or any other woman, breaking into this rarefied world will require many stars to align. "Ms. Right" will need to have experience, know-how, people skills and enough toughness to deal with strong personalities and, in the case of an aspiring GM, to withstand the relentless pressure to deliver wins. She'll be competing against many other qualified candidates to be hired and will need to prove to her prospective owner why she stands out on the merits and why her appointment won't be seen as tokenism or a public relations ploy. And her owner, who will be very conscious of the scrutiny her hiring will bring, will need to be very confident that Ms. Right is up to the job and fully worthy of the responsibilities entrusted to her before he pulls the trigger.
I've lost count of how many times Kim Ng has been in the running for a GM job. Hopefully, she'll eventually break through, fit the profile and get her shot.