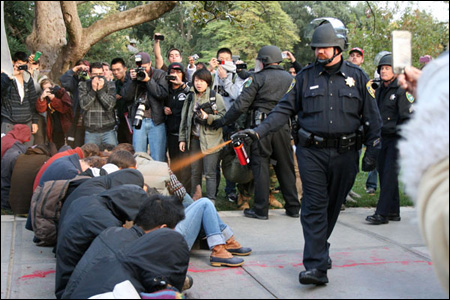 By now, you've seen this. In the less than a week, this photo/video of police officer Lt. John Pike pepper spraying demonstrators at UC Davis has arguably become the most iconic image on the internet. What always strikes me is how casually he does it, like he's dispensing air freshener or something. I swear, I've seen people use Cheez Whiz with more caution.
So who the hell is this guy? To a lot of people, he's just a thug in riot gear, and they want his ass fired. In addition to the current controversy, you might be interested (but not surprised) to know that Lt. Pike also has a history of expressing anti-gay and racist attitudes -- against a fellow officer:
John Pike, U.C. Davis Pepper-Spraying Police Officer, Previously Honored
.
He has risen swiftly through the ranks of the UC Davis police force over the last decade. As one of four lieutenants, the 39-year-old supervises more than one-third of the sworn officers, including the investigations unit.

He has twice been honored by the university for exceptional police work, including a 2006 incident in which he tackled a scissor-wielding hospital patient who was threatening fellow officers. Afterward, he said he decided against using pepper spray because it might harm his colleagues or other hospital patients.

But an alleged anti-gay slur by Pike also figured in a racial and sexual discrimination lawsuit a former police officer filed against the department, which ended in a $240,000 settlement in 2008. Officer Calvin Chang's 2003 discrimination complaint against the university's police chief and the UC Board of Regents alleged he was systematically marginalized as the result of anti-gay and racist attitudes on the force, and he specifically claimed Pike described him using a profane anti-gay epithet.
It says Pike once received recognition for subduing a UC Davis Medical Center patient who was threatening a fellow officer with scissors and a spray bottle filled a caustic chemical. In that incident, he apparently used "a body block, powering his left shoulder" into the patient. The best part of the story is that Pike specifically said he didn't use pepper spray because he
didn't want to hurt his fellow officers."
By the way, the inevitable Pepper Spray Cop meme, now everywhere, has been pretty damn hilarious:
Pepper Spray's Fallout, From Crowd Control to Mocking Images
.