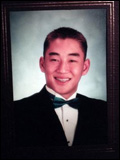 Whoa. I had nearly forgotten about this story. Long time readers and Bay Area residents might remember the 2001 death of San Jose college student Patrick Hsu, who was killed in a bomb blast rigged to a robot dog. The toy was in a package intended for his sister, sent by her estranged husband, Anthony Chang.
Last week, authorities apprehended Chang in Venezuela, where he had been hiding out for years after the killing. He's now expected to face extradition back to federal court in San Jose, where he'll face a number of charges, including mailing explosives that caused death:
Suspect wanted in 2001 bombing that killed San Jose student is arrested in Venezuela
:
The notorious case dates back to Feb. 10, 2001, when Hsu was killed by the explosion at his parents' South San Jose home as part of a plot that appeared to be aimed at his sister, Wendy Hsu, Chang's estranged wife.

Federal prosecutors alleged Chang arranged to have an acquaintance, David Lin, mail the robot dog to the Hsu home and had it rigged to explode. Patrick Hsu's father first opened the package, but put the robot aside because it had no batteries. Patrick Hsu later inserted batteries into the device, resulting in the fatal explosion.

After a four-week trial, a federal jury in early 2007 acquitted Lin of his role in Hsu's death and the fatal delivery of the booby-trapped robot dog.

Lin, in his defense, had argued at trial that he had no idea what was contained in the package Chang arranged for him to send to Hsu.

Chang was angry over his rocky relationship with his ex-wife and had threatened to retaliate against her family, according to testimony at Lin's trial.
This whole thing sounds crazy as hell, but it's all true, and it's a tragedy. It took over a decade, and still might take some time to get him back to the United States, but at least this asshole is going to face justice. And hopefully Patrick Hsu's family will find some peace.