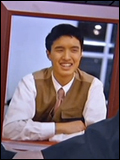 Some terrible, tragic news out of Philadelphia, where two men died of apparent heart attacks Sunday while running in the Philadelphia Marathon:
Cerritos, Calif. Man Dies After Running Philadelphia Marathon
.
One of the men was 21-year-old Jeffrey Lee of Cerritos, CA, a senior nursing and business student at the University of Pennsylvania, who reportedly collapsed at the finish line after running the half marathon course.
Friends and loved ones are wondering how a seemingly healthy young man could die so suddenly:
"I was at the medical examiner's office today," said brother Matt. "They did an autopsy -- they couldn't find anything wrong with him... So I'm just left asking why -- how did this happen, why did this happen?"

Dr. Day says a potential cause could be hypertropic cardiomyopathy, an abnormal thickening of the heart muscle. It's the No. 1 cause of sudden cardiac death in the United States.

"This is something that is difficult to screen for," said Dr. Day. "To do EKGs on everybody, to do echocardiograms on everybody is not a cost-effective way to deal with this."
As of Monday night, the official cause of Lee's death was still undetermined. My heart goes out to his family. Watching the news report, I was surprised to realize that I sort of know his brother. At least, we crossed paths a couple of years ago. Matt, I'm sorry for your loss.
According to this article, friends and classmates remember Jeffrey Lee as a campus leader who made a positive impact:
Young Marathoner's Death Saddens UPenn Community
.