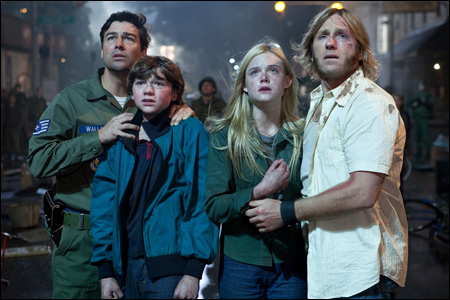 The nostalgic sci-fi mystery adventure
Super 8
, from director J.J. Abrams and producer Steven Spielberg, is out on Blu-ray/DVD this week. The movie, set in small town Ohio circa 1979, has approximately zero Asian faces on screen -- which is fine. It's a fun movie with really nice performances from the kid actors.
But I do want to spotlight a key figure working behind the camera: cinematographer
Larry Fong
, whose credits include
Lost
,
300
,
Watchmen
and other awesome-looking movies. He's a long-time friend/collaborator with J.J. Abrams and producer Brian Burk, and there's a great Blu-ray bonus feature on the three of them working together (and getting to work with their hero Steven Spielberg).
Larry Fong is also a magician -- not just the movie magic kind -- but like an actual card-carrying-member-of-the-Magic-Castle magician. He and his magic skillz are the focus of another great bonus feature on the
Super 8
Blu-ray, "Do You Believe in Magic?" Here's a clip:
Abrams explains in this
interview
why he included the feature:
One of may favorite things about it is the behind-the-scenes featurettes are probably my favorite ones I've been associated with, especially the Larry Fong magic feature. Larry is the [director of photography] on the movie and this amazing magician and he literally does magic nonstop during the entire shoot. He's a friend of mine since I was 11 or 12 years old and getting to watch him be a ridiculous magician is one of my favorite things.
Fong can also be heard on the feature commentary track with Abrams and Burk. It's interesting stuff. Props, Larry Fong.
Super 8
is available now on
Blu-ray and DVD
. If you're into movie-magic-making, it's worth taking a look.