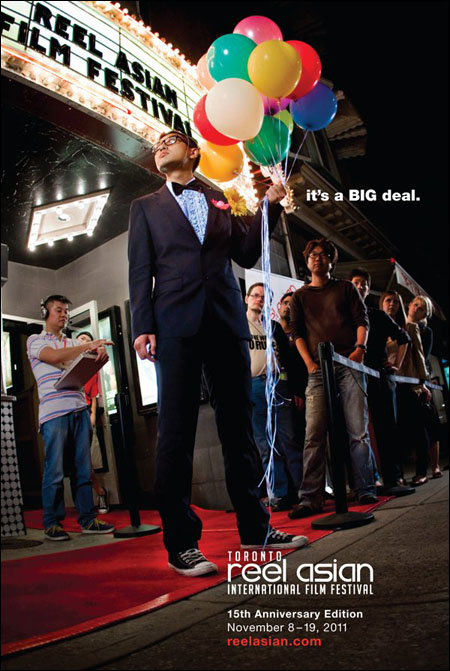 Toronto film fans, this one's for you!
Reel Asian
, Canada's largest and longest-running showcase dedicated to cinema by East Asian and Southeast Asian moviemakers, celebrates its 15th anniversary with a full slate of films and events. The festival runs November 8-19 at various venues around the city.
This year's festival is Reel Asian's biggest yet, with free screenings, larger venues to accommodate growing audiences, a multi-venue media art installation, special guest filmmakers from across Asia and the world, and a major expansion into Richmond Hill.
From the official festival press release, here are some highlights:
GALAS & CENTREPIECE:

——-OPENING NIGHT GALA: LOVER'S DISCOURSE (Hong Kong 2010, Canadian premiere, director Derek Tsang in attendance)
——- CENTREPIECE PRESENTATION: JUMP ASHIN! (Taiwan 2011, Canadian premiere, director Lin Yu-hsien in attendance)
——- CLOSING NIGHT GALA: BUDDHA MOUNTAIN (China 2010, Toronto premiere, guest in attendance)

INTERNATIONAL FEATURES: a selection of award-winning and noteworthy films including

——- China: Piercing 1 by Liu Jian, winner of Best Animated Feature Film, Asia Pacific Screen Awards (2010)
——- South Korea: Journals of Musan by Park Jung-Bum, winner of the Tiger Award, Rotterdam Int'l Film Festival (2011)
——- South Korea: Bleak Night by Yoon Sung-Hyun, winner of the FIPRESCI Award, Hong Kong Int'l Film Festival (2011)
——- Taiwan: When Love Comes by Chang Tso-Chi, winner of 4 Golden Horse Awards including Best Film (2010)
——- Thailand: Eternity by Sivaroj Kongsakul, winner of the Tiger Award, Rotterdam Int'l Film Festival (2011)

CANADIAN PROGRAMMING:

——- World Premiere of Cuong Ngo's PEARLS OF THE FAR EAST
——- Canadian Spotlight LILY ENG: REAL ASIAN-CANADIAN WOMAN WARRIOR
——- Canadian Shorts Programs: SEIZE THE MOMENT, TRAILBLAZERS, CROSSROADS and CREATURES

GALLERY INSTALLATION: LOST SECRETS OF THE ROYAL at A Space Gallery and Blackwood Gallery
Four installations commissioned by LIFT and Reel Asian, inspired by an archive of 35mm Hong Kong films from the 1960s, '70s, and '80s. This collection, recovered by Colin Geddes from the basement of Toronto's Royal Cinema, includes period dramas, comedies, martial arts movies, and pink films.

PITCH COMPETITION
Reel Asian's 6th Annual Pitch Competition—So You Think You Can Pitch?—is back for 2011! A collaboration between Toronto Reel Asian International Film Festival and Charles Street Video (CSV), this competition features prizes worth a combined value of more than $35,000. Teams of filmmakers will have six minutes each to pitch their projects to vie for $2,000 in cash; distribution through Ouat Media; $10,000 (emerging category) and $18,000 (professional category) worth of production, post services and artist's fees at CSV.

REEL ASIAN HEADS TO RICHMOND HILL!
As part of our initiative to reach new audiences beyond the downtown core, Reel Asian expands to include the Richmond Hill Centre for the Performing Arts in its official festival programme. We will be opening at Richmond Hill with the premiere of highly anticipated Hong Kong action film OVERHEARD 2.
I've never attended this festival, but I always look at their schedule and I admire the world-class programming, year after year. For further information about the Toronto Reel Asian International Film Festival, including the full schedule of films, tickets and other details, go to the festival website
here
.