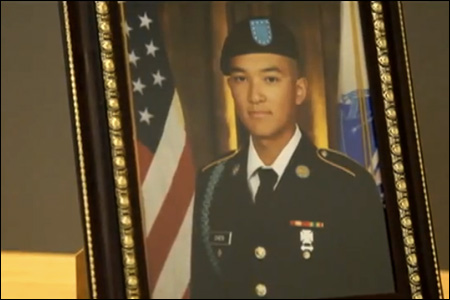 Last month, I wrote about the Army's investigation into the non-combat related death of 19-year-old Private Danny Chen, originally from Manhattan's Chinatown, who died in Afghanistan after being subjected to
"racially charged bullying."
The Army has yet to reveal an official cause of death.
The circumstances behind Pvt. Chen's death still remain a mystery, and community leaders, family and friends are demanding a fair, thorough and transparent investigation. Here's a short video created by OCA-NY, calling attention to the their cause:
What Happened to Private Danny Chen?
OCA-NY is also sending an
online petition
to the Secretary of the Army John McHugh, calling for thorough, timely and transparent investigation into Pvt. Chen's death. Here's the letter:
October 17, 2011
The Honorable John McHugh
Secretary of the Army
101 Army Pentagon
Washington, D.C. 20310-0101

Dear Honorable McHugh:

On behalf of OCA-NY, and the undersigned organizations and individuals, we are requesting a meeting with you to discuss the community's concerns regarding the recent tragic death of Private Danny Chen, a resident of Manhattan's Chinatown.

Founded in 1976, OCA-NY (formerly known as Organization of Chinese Americans) is a civil rights organization and one of 80 chapters and affiliates nationwide of OCA, a national organization based in D.C. Our mission is to protect and advance the civil, political, economic, and cultural rights of Asian Americans.

Two months ago, Private Danny Chen of the 3rd Battalion, 21st Infantry Regiment of the 1st Stryker Brigade Combat Team of the 25th Infantry Division was deployed to Afghanistan. On October 3, 2011, Private Danny Chen died, but not from combat injuries. He was found dead in the living quarters of the army base where he was stationed in Afghanistan with an alleged gunshot wound below his chin. The community deserves to know the truth in a timely manner as to the circumstances leading to Private Chen's death and the cause of his tragic death.

Each year, tens of thousands of brave young men and women, including thousands of Asian American sons and daughters are recruited into the army to serve and risk their life for America. These brave young men and women need to make an informed decision before putting their life on the line. They need to know what affirmative steps the army is taking to integrate, support, and protect its soldiers, particularly minorities who are living and training at these bases. Our community needs guarantees from the army before their sons and daughters enlist that they will be respected and protected by their peers and superiors, especially in the living quarters of an army base where they should have an expectation that they are safe among comrades.

We ask that you please contact Liz OuYang, President, OCA-NY, lizouyang@aol.com, (718) 650-1960 or Tom Hayashi, Interim Executive Director, OCA National, (202) 223-5500 to arrange a meeting.

Sincerely,

Elizabeth R. OuYang, President of OCA-NY
Danny Chen's loved ones should not have to be left wondering. They deserve to know the truth about what happened to their son and friend. For further information, and to sign the petition, go to the OCA-NY website
here
.