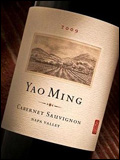 This week, recently retired basketball star Yao Ming launched his latest business venture:
wine
. The eight-time NBA All-Star has started his very own Napa Valley wine company, Yao Family Wines:
Yao Ming Starts Napa Valley Wine Company
.
Retired at 31, I guess he's got some time on his hands, and he's getting a jump start on putting those
college classes
to good use (he also owns the Shanghai Sharks pro basketball team). So... now you can enjoy a glass of Yao-branded Cabernet Sauvignon:
Under the brand name YAO MING, Yao Family Wines has released its first wine -- a 2009 Napa Valley Cabernet Sauvignon -- which will be immediately available for distribution in China. Capitalizing on the regions' wine boom, Ming's label intends to cater to the top tier of the Chinese market. The first 5,000-case production is priced at 1,775 yuan (US $289) per bottle.
Alas, bottles are currently only available in China. The country is apparently enjoying a huge wine boom, and these things are going to sell like crazy. But if you ask me, bottle would be a lot cooler if the label had Yao Ming's face on it. More here:
Yao Ming Courts China's Wine Boom
.