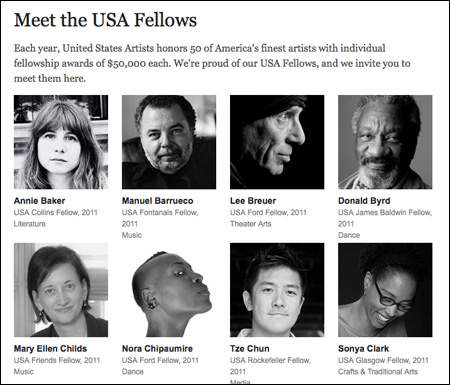 United States Artists
is a national nonprofit organization dedicated to investing in America's finest artists and to illuminating the value of artists to society. Each year, they honor 50 artists with individual fellowship awards of $50,000 each. Just wanted to note that this year's
grant recipients
include:
Filmmaker
Tze Chun
, director of
Children of Invention
:
Tze Chun
USA Rockefeller Fellow
Media 2011 Brooklyn, NY

Tze Chun is a screenwriter and director whose films, in his words, "look at universal issues through the lens of culturally specific, character-driven narratives." Chun's short, Windowbreaker, played at the 2007 Sundance Film Festival as well as over 30 other international festivals and won the audience award at the 2007 New York City Short Film Festival. His first feature film, Children of Invention, recounts the tale of two Chinese-American children who must fend for themselves when their mother is arrested for taking part in an illegal pyramid scheme. The movie, which premiered at the 2009 Sundance Film Festival, screened at over 50 film festivals, winning 17 festival awards including eight Grand Jury or Best Narrative Feature prizes.
Painter and theater artist
Roger Shimomura
:
Roger Shimomura
USA Ford Fellow
Visual Arts 2011
Lawrence, KS

Painter and theater artist Roger Shimomura addresses socio-political issues of ethnicity in his work. Shimomura spent two early years in Minidoka, Idaho, in a concentration camp for Japanese Americans during WWII. This experience and the 56-year diaries of his immigrant grandmother have influenced his investigations into Asian American stereotypes, which he confronts in his paintings. He began teaching at the University of Kansas, Lawrence, in 1969 and retired in 2004, when he started the Shimomura Faculty Research Support Fund, an endowment to foster faculty research in the Department of Art.
Ceramist
Akio Takamori
:
Akio Takahmori
USA Ford Fellow
Crafts & Traditional Arts 2011 Seattle, WA

Akio Takamori is a ceramist who produces hand-painted figurative works. After studying ceramics in Japan, Takamori moved to the U.S. in 1974 to attend the Kansas City Art Institute and Alfred University, New York. His earliest works were figures in vessel forms. During a 1996 residency in the Netherlands, Takamori began emphasizing the space between works by grouping larger figures in sculptural installations, a transition that would mark his future direction. His subjects include rural Japanese villagers from his childhood, historical and art historical characters, and contemporary people, at times accompanied by drawings. He is Professor of Art and Ceramics at the University of Washington, Seattle.
Writer
Karen Tei Yamashita
, author of
I Hotel
:
Karen Tei Yamashita
USA Ford Fellow
Literature 2011 Santa Cruz, CA

Writer Karen Tei Yamashita has published four novels and one collection of short stories, as well as non-fiction. Yamashita's intensely researched novels reflect her interests in communities whose stories often go untold, such as Japanese Brazilian history in Brazil-Maru (1992) and a fictional history of the Asian American movement in I Hotel (2010), which won several awards and was as a finalist for the National Book Award. Her work has received several honors, including an American Book Award for Through the Arc of the Rain Forest (1990).
To see the full list of this year's USA Fellows, go
here
.