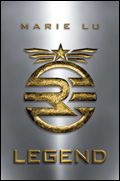 I just picked up my copy of Marie Lu's debut novel
Legend
, which hit shelves this week. The young adult futuristic thriller has been getting a ton of buzz, so I decided to see what the hype was all about.
The buzz actually started kicking up months ago, when CBS Films
acquired the movie rights
for the book. Everybody's looking for the next
Twilight
or
Hunger Games
-these days, and producers are hoping
Legend
has that hit franchise potential:
'Twilight' Producers, Penguin Are Betting on 'Legend.'
Legend
is set in a dystopian future, when North America is now split into two warring nations. The story focuses on Day, the Republic's most wanted criminal, and June, a teenage military prodigy who is hired to hunt him down. Here's the book jacket synopsis:
Once known as the western coast of the United States, the Republic is now a nation perpetually at war with its neighbors, the Colonies.

Born into an elite family in one of the Republic's wealthiest districts, fifteen-year-old June is a military prodigy. Obedient, passionate, and committed to her country, she is being groomed for success in the Republic's highest circles.

Born into the slums of the Republic's Lake Sector, fifteen-year-old Day is the country's most wanted criminal. But his motives may not be as malicious as they seem.

From very different worlds, June and Day have no reason to cross paths - until the day June's brother, Metias, is murdered, and Day becomes the prime suspect. Now, caught in the ultimate game of cat and mouse, Day is in a race for his family's survival, while June seeks to avenge Metias's death.

But in a shocking turn of events, the two uncover the truth of what has really brought them together, and the sinister lengths their country will go to keep its secrets.

Full of nonstop action, suspense, and romance, Marie Lu has written an exhilarating first novel that is sure to move readers as much as it thrills.
Okay, so I'm not really in the intended demographic for this book. But I can't resist the hype. So... time to crack this book open and see what's up. Here's EW.com's interview with author Marie Lu:
'Legend' author Marie Lu on her buzzy new YA novel
. For more information about
Legend
, visit Marie Lu's website
here
.