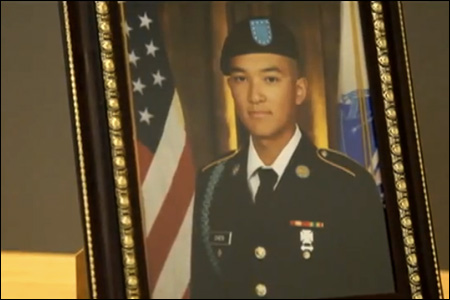 Eight American soldiers have been charged with manslaughter, among other crimes, in connection with the death of Private Danny Chen, who apparently died from a self-inflicted gunshot wound while serving in Afghanistan:
8 Charged in Death of Fellow Soldier, U.S. Army Says
.
The charges suggest that investigators believe the soldiers did not directly kill Pvt. Chen, but their actions -- including physical abuse and racial slurs -- led to him to commit suicide. So much for looking out for your fellow soldier. I guess that doesn't include looking out for the Asian guy serving next to you.
The accused soldiers were all members of the Third Battalion, 21st Infantry Regiment, First Stryker Brigade Combat Team, 25th Infantry Division. Five of them, Staff Sgt. Andrew J. Van Bockel, Sgt. Adam M. Holcomb, Sgt. Jeffrey T. Hurst, Specialist Thomas P. Curtis and Specialist Ryan J. Offutt, were charged with involuntary manslaughter, negligent homicide and assault consummated by battery, among other crimes, the statement said.

Lt. Daniel J. Schwartz, the only officer among the eight defendants, was charged with dereliction of duty, the statement said.

Sgt. Travis F. Carden was charged with assault and maltreatment, and Staff Sgt. Blaine G. Dugas was charged with dereliction of duty and making a false statement, the statement said.
I hope these charges finally answer some questions, though I can't imagine it brings any kind of peace for Pvt. Chen's family. Props to OCA and other community members for keeping the pressure on. Let's see this through to ensure Danny Chen gets justice. More here:
8 U.S. soldiers charged in death of comrade in Afghanistan
.