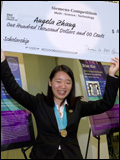 This is pretty awesome news. Major props to 17-year-old Angela Zhang of Cupertino, California, who has won prestigious top honors in the Siemens Foundation's annual science competition:
Calif. teen takes $100K national science prize
.
Angela wins a $100,000 scholarship for her innovative cancer treatment research designing an "Image-guided, Photo-thermal Controlled Drug Releasing Multifunctional Nanosystem for the Treatment of Cancer Stem Cells." What the heck does that mean?
For us Associated Press-reading mortals, she says it's a tiny particle that sort of like a "Swiss army knife of cancer treatments" because of its precision in targeting cancer tumors:
Six individuals and six teams were competing for the awards, which are in their 13th year. Zhang, the only female individual finalist, said her research was in part motivated by her family. Her great grandfather had liver cancer and her grandfather died of lung cancer when she was in seventh grade.

"I asked, 'Why does this happen. Why does cancer cause death? What are we doing to fix this and what can I do to help,'" said the Monta Vista High School senior.

Zhang said the particle she designed improves on current cancer treatments because it delivers a drug directly to tumor cells and doesn't affect healthy cells around it. The particle is also able to release a drug when activated by a laser. The idea is still years away from being used in patients, however. Zhang says it could take 25 years between clinical trials and other steps before her research is helping patients.
Holy crap -- this kickass kid is just 17? You better believe it. Use that scholarship well, Angela. Go forth, continue your research and change the world with your amazing brain. You rock. More here:
17-year-old Cupertino student wins Siemens Competition and $100,000
.