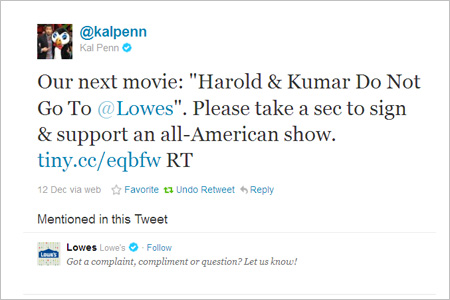 I particularly enjoyed Kal Penn's
tweet
about Lowe's and their bonehead, bullshit intolerance:
Our next movie: "Harold & Kumar Do Not Go To @Lowes". Please take a sec to sign & support an all-American show. http://tiny.cc/eqbfw
.
He links an online petition in support of TLC's
All-American Muslim
, directed at sponsors, urging them to ignore the Florida Family Association's bigoted whisper campaign:
Repudiate Calls to Stop Advertising on TLC's "All-American Muslim."
Also check out
The Daily Show's
Jon Stewart and Senior Muslim Correspondent Aasif Mandvi in a couple of hilarious, and totally on-point bits tackling this stupidity:
"That is the most boring reality show imaginable. It seems to just show Muslims living their lives like the rest of us f--king idiots."
"I'm saying that if we're serious about fighting terror, we have to shut down their supply chain, i.e. Lowe's, aka The One-Stop Jihadi Super Store."
It should be noted that Lowe's isn't the only sponsor to pull advertising. The list also includes: Bank of America, the Campbell Soup Co., Dell, Estee Lauder, General Motors, Goodyear, Green Mountain Coffee, McDonalds, Sears, and Wal-Mart. (Thanks, Shehan.)
UPDATE: Wait. Hold up on that list of advertisers:
FACT CHECK: Most Companies Not Caving To Intolerance, Will Continue To Advertise On 'All-American Muslim.'