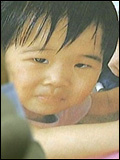 Some awful news out of Tennessee, where a pediatrician was convicted last week on multiple accounts of abusing and killing her own adopted daughter:
Mt. Juliet doctor guilty in death of 4-year-old daughter
.
In Mt. Juliet, Dr. Deborah Mark was found guilty of murdering her 4-year-old daughter Kairissa, just a few months after she was adopted from China. Doctors testified that the girl showed several signs of consistent abuse, including bruises, a swollen brain and thirteen broken bones:
The jury in Wilson County began deliberations around 3:30 p.m. Friday and delivered the verdict around 8:30 p.m.

Mark was found guilty on all nine counts she faced, including eight counts of child abuse in addition to the murder charge.

She faces a mandatory life sentence in prison.

During closing arguments Friday, Mark cried as the district attorney walked the jury through each of the charges, citing the law and the specific evidence in its case.

"The only doctor that could have helped her turned her back on her," said Tim Swink, assistant district attorney.
She gets a life sentence, and she deserves it. Dr. Mark's husband, Steven Mark, will soon face charges -- eight counts of child abuse -- in connection with Kairissa's death. More here:
Adoptive mother gets life in prison
.