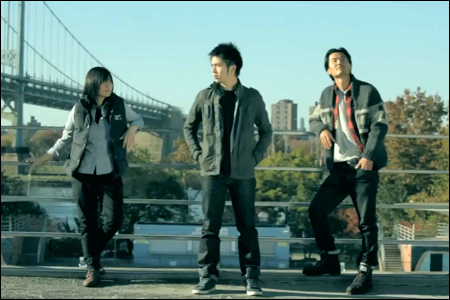 Magnetic North & Taiyo Na have partnered up with the guys from Wong Fu Productions for their latest music video, the title track from the recently re-issued album
Home:Word
, featuring Sam Kang. The song and video are wisful dedications to family and home, whoever and wherever that means to you. Take a look:
The video stars Ed Lin, Cindy Cheung, Raymond Chu and Sally Yoo. Kind of weird for me to see Ed and Cindy aged up and playing parents to grown up children, but it's nicely produced video that tugs at the heartstrings (I'll admit to getting a little misty-eyed at the end). Excuse me now as I go call my parents.
The Deluxe Edition of
Home:Word
is available for download from
Amazon
and
iTunes
, or order a copy of the physical CD
here
. For more information on Magnetic North & Taiyo Na and their music, go
here
and
here
.
For more information on the work of Wong Fu Productions, including
behind-the-scenes details and director's commentary
on the making of the "Home:Word" music video, go to the Wong Fu website
here
. Also check out their YouTube channel
here
.