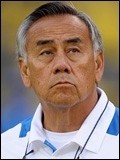 It's official. Norm Chow has signed on as head football coach at the University of Hawaii. This is not only his first head coaching position, but it also makes him the first Asian American head coach of a major college football program:
Hawaii officially hires Norm Chow
.
Chow, 65, is in his first season as offensive coordinator at the University of Utah. He previously served as offensive coordinator at UCLA, USC, North Carolina State, BYU and for the Tennessee Titans. And now he's coming home to Hawaii, back to his roots:
Chow is from Honolulu and graduated from Punahou School. He got his coaching start at Waialua High and Intermediate School before becoming a graduate assistant at BYU in 1973. He spent 27 years as an assistant under LaVell Edwards at BYU running its innovative spread offense. He helped the Cougars to their only national championship in 1984.

He was also coordinator under Pete Carroll at USC when the Trojans won national titles in 2003 and 2004. He left USC in 2005 and became offensive coordinator for the Tennessee Titans but was fired after three seasons. Rick Neuheisel brought Chow to UCLA in 2007 but he was replaced by Mike Johnson after three seasons.

Chow may be best known for helping star quarterbacks Jim McMahon, Steve Young, Ty Detmer, Philip Rivers, Carson Palmer and Matt Leinart. Detmer, Palmer and Leinart won Heisman Trophies under his tutelage.
Dude. It's about time Norm Chow scored himself a head coach job. With close to forty years of experience, he's considered one of the best offensive minds in college football. And now he gets his chance to lead a program, in Hawaii of all places. Good for Norm Chow, and good for Hawaii. More here:
Chow says he's honored to be Hawaii's next head football coach
.