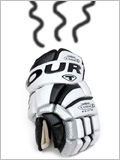 Now this is a headline:
"PLAYER KICKED OUT OF LEAGUE FOR DEFECATING IN OPPONENT'S GLOVE FOLLOWING A FIGHT ON THE ICE."
Tell me that doesn't intrigue. And yes, it's all true. Asian behaving badly... stinky glove edition:
How A Senior League Hockey Fight Ended With One Player Pooping In An Opponent's Glove
.
37-year-old defenseman Zung Nguyen, who played for the Boston-area Rogue Squadron, was permanently booted out of the New England Senior Hockey League for literally crapping into another player's glove. His motive? Revenge. It all apparently started with an altercation on the ice between Nguyen and Dave Bermingham of the Young Guns:
Just after the second period began, Nguyen emerged from his locker room and went into the seats near where he had thrown Bermingham's glove. Teammates thought Nguyen was going to see his girlfriend, who had come to watch him play. Soon after, he went down to the corner of the arena, a semi-secluded area near where the Zamboni enters the ice. Young Guns players on the bench saw him squatting there, but didn't think anything of it at the time. He then returned the glove to its original spot in the seats.

Midway through the second period, Bermingham came out of his locker room. He had showered and changed and was ready to crack open a beer but needed to collect the last of his scattered equipment. Those gloves were nearly new: this was the second game he had worn them, and the price tag was still on. Bermie went into the seats where it had landed, picked it up, and put his hand in.

Inside, shit. Fresh, wet, warm, pungent human shit. Bermingham held the glove at arms length and immediately ran alongside the dasher to hand it to a referee. He then stormed off to the locker room.
And that is how one disgruntled hockey player got his revenge -- and got banned from the league for life. While I cannot condone defecating in anyone's glove -- or anyone's anything, for that matter -- I can't lie... this made me laugh a lot. Talk about poor sportsmanshit! Sorry, I couldn't resist. (Thanks, Belinda.)