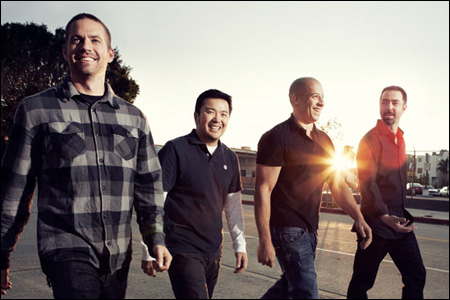 We knew that a sixth
Fast and Furious
movie was in the works. This was all but guaranteed when they dropped that juicy parting gift just before the end credits rolled in
Fast Five
(though I'm sure $620 million+ at the global box office pretty much sealed the deal). So get this...
Producer/star Vin Diesel recently revealed that there will not only be a sixth movie, but a seventh one too. They're apparently being written simultaneously:
Vin Diesel Confirms Seventh 'Fast and Furious' Movie in the Works
.
Fast Five moved the franchise from the genre of car-racing adventure to action-adventure heist, while garnering the best reviews in the franchise's history and grossing an astonishing $626 million worldwide. Apart from reuniting supporting characters from previous movies, it added star power in the form of Dwayne Johnson. A coda at the end of the movie teases the return of a character played by Eva Mendes last seen in 2 Fast 2 Furious as well as the return of Michelle Rodriguez.

"We have to pay off this story, we have to service all of these character relationships, and when we started mapping all that out it just went beyond 110 pages," Diesel explained. "The studio said, 'You can't fit all that story in one damn movie!'"

Diesel did not reveal details on whether the two movies would be two-parters or two standalone movies.
Ten years ago, who would have thought we'd see Justin Lin responsible for the seventh movie in a multi-million dollar
Fast
franchise? And who would believe we'd be talking in terms of
too much story
to fit into just one
Fast
movie?
By the way, Justin Lin and Co. recently made
The Hollywood Reporter
list of
2011's Biggest Rule Breakers
. The future is bright.