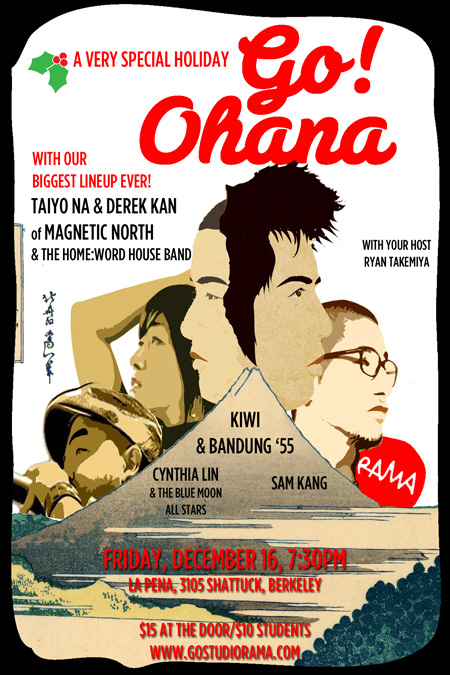 If you're in the Bay Area, Rama invites you to
A Very Special Holiday Go!Ohana
, their monthly APA talent showcase, and this one's their biggest one yet, featuring the likes of Taiyo Na & Derek Kan of Magnetic North, Kiwi, Cynthia Lin, Sam Kang and more. It's happening Friday, September 16 at La Pena Cultural Center in Berkeley. Here are some more details:
Happy Holidays from the Rama Family!

A Very Special Holiday Go!Ohana

Friday, December 16
7:30pm

La Pena Cultural Center
3105 Shattuck Ave., Berkeley

$15 at the door
$10 students
http://www.gostudiorama.com/purchase-tickets/

Our biggest lineup yet! Celebrate the holidays with some of the most talented Pan-Asian Hip Hop artists in the community as we take a look back on another great year of music, art, culture, and family. Every year at the Holiday Go!Ohana show there are special giveaways, holiday songs, big surprises, and always lots and lots of Santa hats :) So come gather around the fire with your OHANA…

FEATURING:

::::|||| TAIYO NA & DEREK KAN of MAGNETIC NORTH ||||::::

::::|||| THE HOME:WORD HOUSE BAND ||||::::

::::|||| KIWI & BANDÛNG '55 ||||::::

::::|||| CYNTHIA LIN & THE BLUE MOON ALL STARS ||||::::

::::|||| SAM KANG ||||::::

With your Host: Ryan Takemiya
And featuring a very special guest: Terry Park, Mr. Hyphen 2011
Ahhhh! It's going to be one bomb-ass show! Celebrate the holidays with good music from good people. I love it. For further information about the show, go to the RAMA website
here
and check out the Facebook event
here
.