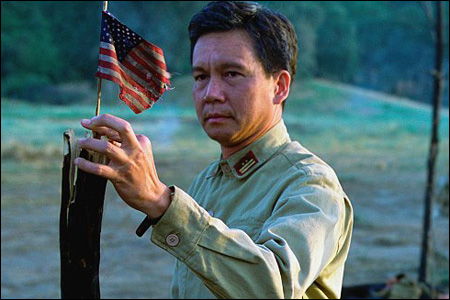 Vietnamese actor Don Duong, who appeared in Hollywood films like the Vietnam War epic
We Were Soldiers
and the indie refugee drama
Green Dragon
, has reportedly died of heart failure and a brain hemorrhage in San Francisco. He was 55:
Vietnamese actor Don Duong dies at 55
.
Considered one of Vietnam's best-known actors, Duong left Vietnam in 2003 after being heavily criticized and labeled a traitor by the country's official Communist media for his Hollywood roles:
We Were Soldiers depicted the November 1965 battle of Ia Drang - the first major engagement between US troops and the North Vietnamese Army - and Green Dragon told the story of Vietnamese refugees housed in camps in the US in the mid-1970s. Vietnam objected to both.

The Quan Doi Nhan Dan (People's Army) daily newspaper said the actor had betrayed his country.

Calling Duong's actions "unforgivable", the newspaper said the "conscience-seller and traitor must be strictly disciplined".

Film director Duong Minh Dau said the actor had insulted Vietnam by "turning his back on his country and his people".

The criticism prompted Don Duong to leave Vietnam in 2003: he became a US citizen.
He was a great actor who deserved more work, if not here then back in Vietnam. Unfortunately, he was never able to return before he died. My favorite Don Duong role has to be Hai, the cyclo driver in Tony Bui's
Three Seasons
. I loved that film. More here:
Vietnamese actor passes away in America
.