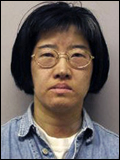 In New Jersey, a woman accused of killing her husband has been found not guilty of murder, but convicted on related charges of aggravated manslaughter the attempted murder of her daughter:
Elmwood Park woman acquitted of murder, convicted of aggravated manslaughter, attempted murder
.
50-year-old Jenny Tran was accused of smothering her ailing, bedridden husband with a plastic bag in March 2009, then attempted to kill her daughter. Her defense had tried to have her found not guilty by reason of insanity:
Jenny Tran was acquitted of murder but found guilty of aggravated manslaughter Wednesday in the killing of her husband at the family's Elmwood Park home nearly three years ago.

A jury in Hackensack, after less than a day of deliberations, also found Tran guilty of attempting to murder her daughter on two separate occasions and threatening to kill her son. Tran was also convicted of three counts of child endangerment.

Tran broke into tears and hugged her attorney in what appeared to be a relief when the jury foreperson announced the "not-guilty" verdict. She then sat straight with teary eyes as more than a half-dozen guilty verdicts were then announced.
Tran is scheduled for sentencing on February 3. She faces up to thirty years in prison on the manslaughter conviction and twenty years on the attempted murder charges. More here:
NJ woman convicted in husband's death
.