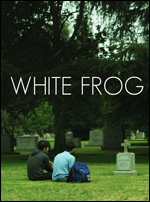 It's on, Bay Area. It is on. The 30th San Francisco International Asian American Film Festival has announced its Opening Night Gala and world premiere presentation of
White Frog
. The indie drama kicks off SFIAAFF30 on March 8, 2012 at the Castro Theater, followed by a reception at the Asian Art Museum.
The film stars Booboo Stewart as high-school freshman Nick, a young boy with Asperger's syndrome who is often neglected and misunderstood by his seemingly perfect family. When tragedy suddenly strikes, Nick is forced out of his comfort zone, and into finding the strength he needs to survive.
Directed by Quentin Lee, with a screenplay by Ellie Wen,
White Frog
stars B.D. Wong, Harry Shum Jr. and Joan Chen.
Early Bird Presale tickets for the Opening Night screening and gala go on sale next week, January 30, 10:00am PST at the Center for Asian American Media
website
. Tickets for the general public are $55 ($60 after February 9), tickets for CAAM Members are $45 ($50 after February 9).
The San Francisco International Asian American Film Festival runs March 8-18 in San Francisco, Berkeley and San Jose. I'll post more information in the coming weeks as more programing announcements are made, and the festival website goes live. In the meantime, check out the CAAM website
here
.