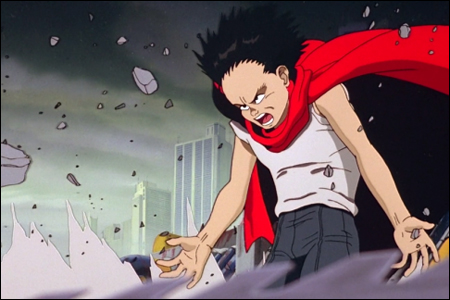 Good news,
Akira
fans. Production has shut down on the project we love to hate. For now. Warner Brothers is reportedly halting the live-action remake amid a swirl of casting, script and budget issues:
'Akira' Production Offices Shut Down As Warner Bros. Scrutinizes Budget
.
According to
The Hollywood Reporter
, production offices in Vancouver are being closed, with below-the-line talent and crew being told to stop working and go home. We all knew this thing was a big fat mess. Apparently, the people in charge are finally starting to realize it too:
Producers, who include Appian Way's Jennifer Kiloran Davisson and Mad Chance's Andrew Lazar, will hunker down with director Jaume Collet-Serra for the next two weeks to iron out the script. It is unclear if Harry Potter scribe Steve Kloves, who did a pricey rewrite on the project a year ago, will be brought in to help out.

If the issues cannot be resolved, the project could end up being shelved entirely, say insiders.

Collet-Serra already had halved the budget from the incarnation that Albert Hughes was going to direct. He now is working on a budget in the $90 million range. But with only Garrett Hedlund (Tron: Legacy) signed on to star, and Kristen Stewart, Ken Watanabe and Helena Bonham Carter in various stages of dealmaking, the studio feels that the price tag is still too high for a sci-fi project with that level of star wattage. The goal, says an insider, is to bring the budget down to between $60 million and $70 million. However, another source close to the production says the script, rather than the budget, has skidded the production. The project, this person says, will remain in the $90 million range.

I get the strong feeling producers had no idea what the hell they were getting into when they mounted this ungodly attempt to adapt and Americanize
Akira
. The shut down is victory for us fans who have taken issue with this cursed project from the moment it began to take shape.
But we're not out of the woods yet. While some say this could mean the end, we've heard it before. Previous plans to make this movie have been scrapped, only to be miraculously resurrected multiple times over the years. In truth, they've already sunk way too much money into this movie to let it go that easy. More here:
'Akira' down, not out, at WB
.